Technological development in the field of online business started from the early 1990s. At that point, only structured, less experiential goods could be experienced on online e-commerce.
Digitisation helped fashion retailers strategize newer ways to reach and engage with consumers. As a result, many fashion e-commerce sites developed and encouraged consumers to look for online products, offers and new collections. Digital innovation has made it possible for fashion and lifestyle products to be extensively bought online.
In the last decade, technological innovations enabled fashion consumers to buy online with near-real experience. At the same time, these developments enabled fashion retailers to sell online in a more efficient way.
Technology enhances buying experience
Variety, trends, fitting, colours and brand options are the main factors that impact the consumer's online buying experience. Technologists across the globe are working to enable such near-real experiences of online purchases. Social media enabled fashion e-commerce and has led to take trends, styles and other influential aspects to the next level with sources of feedback and sharing of user experiences.
<![if !supportLists]><![endif]>Varied Exposure
Consumers can quickly search for options across various sites via aggregators like ROPOSO. Technological enhancement has made accessibility more convenient with advent of marketplaces, providing customers with more options on a single platform.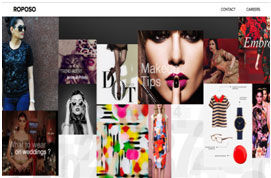 Making decisions on selection

Industry stalwarts are aiming at enhancing consumer experience by enhancing visual appeal for the web store. E-commerce sites are constantly upgrading the technologies. Improved internet speed helps consumers view quality images.
Multiple images, various angles

Image size, zoom functionality, alignment, margins, background, shadows and viewing angles are features that enable customers to view products carefully to be able to take decisions on whether or not to purchase.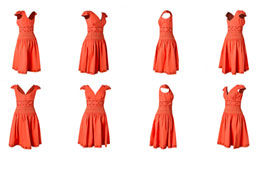 Videos to enable greater experience of products:
E-commerce sites are now deploying product videos to give consumers an enhanced experience of style and looks of a product.
<![if !supportLists]><![endif]>Availability of size charts and virtual trial rooms:
Gone are the days when consumers steered away from online shopping because of the confusion in sizes and how the dress would look on them. E-commerce players like Zovi, have created standardised virtual trial rooms that help consumers click on the pictures and try the product on virtually. This has made it easy for consumers to get an overall appeal of a product. Size charts enable consumers to get an idea on the fit.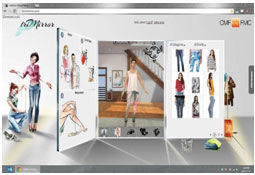 <![if !supportLists]>

Omni-channel experience:
Omni-channel options facilitate consumers by identifying different ways to interact with consumers. So, the buyer is no longer hesitant about shopping, be it online or in a store. Retailers, eager to help consumers, are adopting technology to enable omni-channels.
<![if !supportLists]>
Webrooming and showrooming:
Technological innovations have enabled consumers to blend their search online and offline. Now, they can search online and buy offline (webrooming), or they can search offline and buy online (showrooming).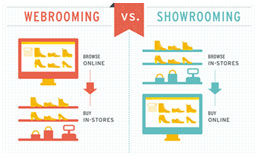 <![if !supportLists]><![endif]><![endif]>Image scan and search:
Several applications have made it easy for consumers to search online for best possible options. Taking a picture and searching it online through several applications permits consumers to match similar options and compare prices along several platforms.
<![if !supportLists]><![endif]>Virtual mirror:
The virtual mirror is a life-sized mirror that overlays the customer's image with pictures of selected clothing using gesture- and touch-based interfaces. It enables retailers to quickly create outfits by mixing and matching a wide range of garments and increases the conversion rate as well as customer satisfaction. It can be difficult to try on and change different products. That is where the virtual mirror can generate a "near trial" experience for a large number of products with just a swipe and a click.
<![if !supportLists]><![endif]>Technology is enabling fashion retailers
The end-to-end operations of e-commerce are driven by technology, making the process more simple and effective for the fashion retailers.
Some common ways in which technology is enabling fashion retailers are:
<![if !supportLists]>Multiple connect platform via single interface:
Retailers can standardise connectivity with the consumers via technological innovation in channel management, enabling programs for selling and servicing customers across various marketplaces like
Amazon, Myntra, Flipkart and Jabong using a single interface. Fashion e-commerce enablers like eShopbox use SAAS-based technology platform to create an online interface customised for fashion e-commerce only.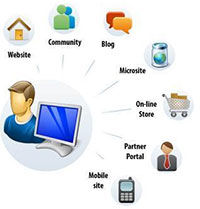 <![endif]>
<![if !supportLists]><![endif]>Deeper integration with manufacturing:
Standardising manufacturing process with technological innovation has expanded the business perspective of retailers. Technological enhancement has enabled merchandisers keep a close watch on every aspect of operations. A standardised technical system has made co-operation among different sections of manufacturing possible. Data analytics help the manufacturing purposes. Intelligent usage of databases can enhance product design while manufacturing.
<![if !supportLists]><![endif]>Analytics and insights on trends and demands:
The online marketing space is dynamic. That is where web data analytics comes into play. Data analytics is the technique of examining raw data and drawing useful conclusions. The data collected via several data analytics metrics keeps business owners updated about changes in trends through data accumulation and analysis.
Advanced software such as SAP helps maintain Customer Relationship Management (CRM), by storing relevant data related to consumers and sending them relevant communications. One of the most common strategies for this is to send promotional mail on purchase. If a customer buys a shirt, he will receive promos on trousers.
There are several kinds of analytics tools, categorised according to function. Some popular tools according to specific functions are Google analytics, Clicky, Kissmetrics, Retention Grid, RjMetrics etc.
<![if !supportLists]><![endif]>Easy to manage interface for great experiential web stores:
Web stores help consumers view product lines and compare them. Web stores convey information about the nature of a product line a retailer wants to sell. E-commerce software has evolved to provide simpler and easy interface for retailers to manage dynamic fashion e-commerce. Simple drag, drop and click facilities can enable retailers to make their site layout/design dynamic and manage products, brands and collections, keeping up with latest fashion and sales trends.
<![if !supportLists]><![endif]>End-to-end integration from demand to supply:
Warehouse:
Inbound processing and the right software such as Enterprise Resource Planning (ERP) software allows an individual to check-in materials and record inventory at one go. Barcode scanning takes the extra handling out of receiving operations.
For storage, items ordered and shipped should be in order. If a number system works best, then that is the system to be used. It is important to have the right system in place for easy access. For example, racking system could be accommodated to store bins.
Delivery:
With the right technology, it is possible to customise pick-up lists to complete several orders. Installation of an automation system reduces chances of mismanagement. Creation of user interface is helpful in getting an update on inventory replenishment, as all order details and status of delivery can be checked. GPS system is used for optimising the system of loading, routing and deliveries.
Customer location:
Tracking has become easy with location targeting devices, Google maps etc. Once a product is shipped, an email is sent to the consumer confirming the address with courier tracking id. This helps retailers with customer location. After the product is delivered, a confirmatory message is sent via email. Technology has simplified the whole integration process.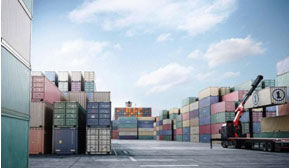 <![endif]>Advanced warehouse technology
Automation is efficient and time-saving. There is a growing trend towards warehouse automation of internal stocks. Virtual mapping has made it easy to automate navigation systems. The warehouse management software such as VISION controls life-cycle services ensuring all warehouse functions work together effectively throughout the entire life cycle.
During the last holiday season, Amazon gave a view of its warehouse where it showed short, 16-inch robots criss-crossing the warehouse, helping employees complete multiple orders at once.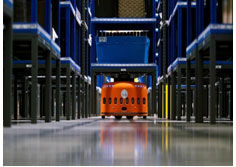 <![endif]>
<![if !supportLists]>Personalised taste and targeting via mobile apps
According to a blog on usabilla.com, 40 per cent of online retail sales in UK come directly from the mobile.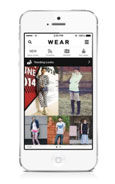 <![endif]>Mobile apps have brought a new way for fashion e-commerce by providing personalised news to consumers via promos and messages. These activities result in more conversions than the Web.
Mobile apps have enabled fashion retailers get insights on the personalised choice of consumers. With Myntra making the move to mobile app-only approach, it is creating a mobile opportunity for fashion retailers to tap. Reaching out to customers through this platform would be a more focussed and targeted approach. Other than that, using several online payment platforms like Paytm and integration with major banks, the process can be easily integrated for mobile app purchases, which makes payment transaction more flexible than the Web.
It is evident that fashion e-commerce as an industry is almost entirely dependent on technology. An integrated technological system has enabled better user experience. It is a great time for fashion merchandisers and retailers to take advantage of this technological evolution. Technology is indeed steering fashion e-commerce.
Image Courtesy:
1. Letsintern
2. Prestashop
3. Theglobeandmail
4. Bizreport
5. Kentico
6. Omlogistics
7. Smartworld
8. I2.wp
About the Author:
Ankush Karwa is the Co-Founder and Director of eShopbox.